1985 Fleer
Base Set:
660 cards (one series)
Packaging:
36 pack, 15-card waxboxes; 24 pack, 28 card cello boxes; 24 pack, 42 card rack packs; 500 card vending boxes.
Notable Cards:
Roger Clemens RC, Kirby Puckett RC
Other Notes:
Debut of dual-player "Major League Prospect" cards.
Decent second-tier RC class (Eric Davis, Orel Hershiser, Bret Saberhagen).

For the first time since 1982, colored-coded borders.
Full Set:
$60 (NmMT)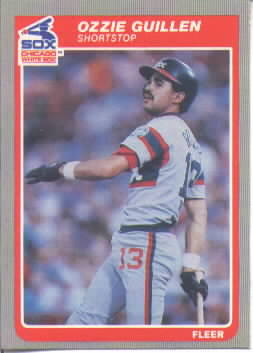 1985 Fleer Update
Base Set:
132 cards
Packaging:
Hobby-exclusive factory set
Notable Cards:
Darren Daulton XRC, Vince Coleman XRC, Ozzie Guillen XRC
Other Notes:
What more needs to be said about a set whose "best" XRC is of Darren Daulton?
Fleer should have saved those second-tier RCs for this set.

Full Set (Factory):
$8 (NmMT)