It took me a while to hook-up my old scanner to my dying laptop (the old one, not the new one), but I'm finally ready to show off some of the goodies I got at the NSCC.
The anticipation must be killing you, I know.
EVERY SINGLE CARD you will see in this post was purchased for a dollar or less. Yes, I am a cheapskate. But for those of us who collect cards from the 1990s and early 2000s this is golden time and we have one website to thank for it.
Craigslist has become a dumping ground for ex-collectors looking to get something (anything) for those old cardboard boxes in the attic. Sure, many Craigslist offerings are of Junk Wax Era cards, but every once and a while you'll come across a listing that might have some good stuff.
And we're not the only ones who have noticed. There's a new class of dealer that begun to pop up at shows over the last few years, and until somebody else comes up with a better name I'm calling him "Craigslist Reseller." Craigslist Reseller pours over card lots that potentially MIGHT have decent cards, buys them in bulk, then rents a table at a card show and has collectors (like me) have at it for a low fixed price (usually $1 a card). Craigslist Reseller usually doesn't bother actually looking at all the cards before buying them, or at best, samples a handful to see what he has.
One Craigslist Reseller whom I overheard said that every once and a while, one of his dollar boxes will yield something like a 89 UD Griffey RC or a low-numbered 90s insert. And if somebody happens to find such a card in a box full of Juan Gonzalez and Mike Mussina rookie cards? All the better because he's made a customer for life.
So thank you Craigslist Reseller. Because of your efforts, 1990s card collectors are happier than a pig in shit.
And on that note, take it away Bixby Snyder.
1991 Stadium Club Charter Member Membership Card (paid $0.25)
To Mr. Jeffrey Batt, wherever you are, thank you. I thank you for having the foresight of signing up as a Charter Member of Topps' Stadium Club over 22 years ago.
You may remember that two years ago at the NSCC,
I bought the 1991 Stadium Club Charter Member set for $10.
It had the keychain, the Nolan Ryan ingot, and the 50-card box set, but it was missing one piece: The Charter Membership card. Missing, until I found Mr. Batt's card two-years later in a quarter box.
What exactly did you get with this card anyway? 10% off NSCC admission? Buy-one-get-one free at Papa John's? Airline miles? Was Karl Malden a closeted card collector and did he "Ever leave home without it?" I wonder if any famous people were Charter Members, and how much their cards would be worth.
A pair of 2001 Donruss gimmicked "Rookies" (paid $0.25 each)
Another two to
cross off the ol' checklist.
At this rate, my 2K1 D'Russ Master Set will be completed sometime in 2132.
A shitload of Frank Thomas and Manny Ramirez 90s inserts (A buck each).
To give you an idea of just how many Frank Thomas inserts I pulled out of ONE DOLLAR BOX, the above photo is a fistful of top-loaders, spread out on my scanner.
I had TWO MORE FIST'S FULL OF BIG HURT INSERTS.
Let me repeat: I paid ONE UNITED STATES DOLLAR for each card.
And it wasn't just The Big Hurt, either. The same table had a dollar box of ManRam's.
The ManRam box had a dozen 1994 Leaf Limited Rookies Phenoms (serial-numbered to 5000) and a dozen more 1994 Sportflics 2000 Rookie/Traded "Rookie of the Year" SPs (case hits). There wasn't much variety, compared to the Thomas box, but I did manage to score some decent cards.
By far the best dollar box find I had at that table was this beauty.
That may LOOK like a 1995 Leaf Frank Thomas base card. But if you had a Sega Genesis, you know that this is the 1995 Leaf AKKLAIM Frank Thomas. Each copy of
Frank Thomas Big Hurt Baseball
-- the third best Genesis baseball game released in 1995 -- came with one.
Forty 2001 Upper Deck Pinstripe Exclusive cards (paid $0.25 each).
For the uninitiated,
Pinstripe Exclusive is a pair of 56-card sets
, one of Joe DiMaggio the other of Mickey Mantle, released in various 2001 Upper Deck baseball Hobby boxes -- the estates of both players were exclusive to Upper Deck that year, hence the name. Selected Hobby boxes had a three-card Pinstripe Exclusives pack inserted as a box loader -- and if I recall correctly, the DiMaggio's were in UD's "higher end" sets (SP Authentic, SPx, Sweet Spot, et al), while the Mantles were in the more mass-produced boxes (i.e. MVP, Series Two flagship, and the like). There were also game jersey, game bat, and cut signature cards also inserted into these packs.
This is a set I've gradually been piecing together over the last dozen years. I picked up over a third of the set for ten bucks. Not bad.
1996 Collector's Choice You Crash the Game Redemption Mickey Tettleton (paid $0.25)
Yeah, I know. It's Mickey Tettleton, big whoop.
Big whoop? Do you know how tough it is to find ANY of the 1996 You Crash the Game Redemption cards?
Oh, you do? Never mind then.
1997 Donruss Elite Turn of the Century Derek Jeter (serial-numbered to 3500 copies; paid $1)
About a couple of weeks before the NSCC, an eBay auction for a mid-90s Donruss Derek Jeter insert, (not unlike this 1997 Donruss Elite Turn of the Century insert) was brought to my attention. It was the
1997 Donruss Preferred Staremaster
and it was professionally graded a Mint "9" by PSA. It was a nice card that I needed for my set, but had been bid-up to a point that was too expensive for my budget. (Besides, I don't do graded cards.)
What was outrageous was what the seller threw-in a bonus: Five additional '97 D'Russ Preferred Jeter Staremaster's ALL RIPPED IN HALF.
The justification for ripping-up a card I would have easily paid $20 for (in tact) was to artificially decrease the supply -- the supply of a card that was serial-numbered to only 1500 copies. What an asshole, I mean who RIPS UP A $20 CARD?
What does this story has to do with the Turn of the Century Jeter insert I found for a buck? I don't know. But someone on Twitter (I think it was Gellman of Sports Cards Uncensored) asked why Panini continues to use the "Turn of the Century" name as an insert in their handegg sets, when the Century "turned" 13 years ago.
Maybe it's the legacy of this 16-year old Derek Jeter insert?
1997 Flair Showcase "Row 0" Alex Rodriguez (paid $1)
My, my, how the mighty have fallen. If you know anything about
1997 Flair Showcase
, then you know just how TOUGH this card was to pull. Even after a decade-and-a-half, and even after the PED allegations, this SHOULD still be a $25-$30 card.
The day after the NSCC closed, A-Fraud was given his 211-game suspension. I don't know if the dealer was preemptively dumping his A-Fraud's, or if this one just slipped through the cracks, but I was more than happy to take it off his hand for 100 pennies.
A pair of 1999 Upper Deck Ovation Tier 3 ReMarkAble Moments inserts (paid $1 each)
Speaking of 1990s Hobby superstars whose inserts have been devalued by PEDs ...
These may look like a pair of (pardon the pun) unremarkable Mark McGwire inserts from 1999 Upper Deck Ovation, and on the surface they are. But these are cards M13 and M15 in the set. Why is that important?
The first five cards in
the 15-card ReMarkAble set
were seeded into packs at the rate of 1:9. The next five at 1:25. For the last five cards (M11-M15), the ratio was 1:99, or, one in every five boxes.
Yeah, it's Mark McGwire; but it's also a pretty damn tough late-90s insert, and I got two of them for only $2.
1998 Donruss Crusade (green) Abraham Nunez (given to me for free by Chris Thomas)
Don't you just love it when someone buys a rare insert on eBay only to discover that he already has it? And then they just give it to you for nothing?
... and finally.
2012 Upper Deck MLS Quad Materials Sebastien Le Toux and three other stiffs.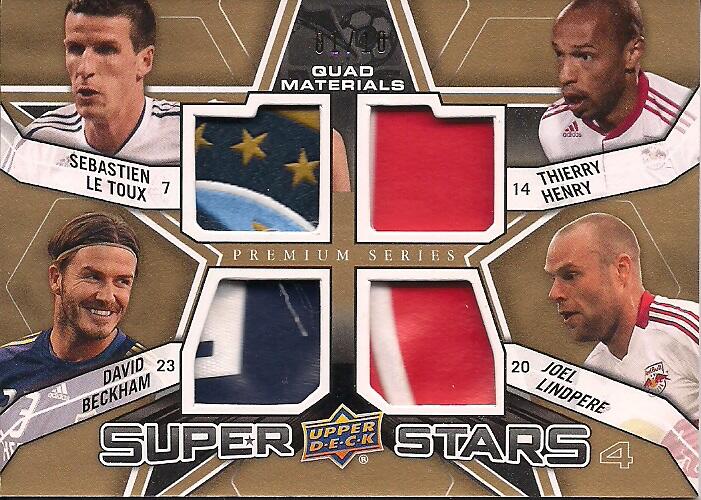 Is that not an AWESOME card of Sebastien Le Toux or what?
I heard the other guy on the left ain't too shabby either. The two on the right? Pure shite.