Bloggers Note: This is the first installment of a 27-part year-by-year tribute to Fleer baseball. Today, we start at the beginning with Fleer's pre-1981 baseball efforts.
1959 Fleer Ted Williams
Set Size:
80-cards (one series)
Notable Cards:
"Ted Signs for 1959" (SP)
Other Notes:
ACC Designation: R418-1
In an effort to muscle it's way past the Topps monopoly, Philadelphia based chewing gum manufacturer Fleer signed Ted Williams to an exclusive contract.
Entire 80-card "hero worship" set -- released three decades before Upper Deck's Baseball Heroes.
"Ted Signs for 1959" card was withdrawn from production as it featured Sox GM Bucky Harris who still was under contract to Topps. Was one of The Hobby's first counterfeited cards.
Full Set:
$1800 (NrMT)
1960 Fleer Baseball Greats
Set Size:
79 cards (one series)
Notable Cards:
Three different variations of card #80
Other Notes:
ACC designation: R418-2
Four decades before Greats of the Game, Fleer released this set -- consisting of Ted Williams and 78 retired players.
Cheap vintage cards of Babe Ruth, Lou Gehrig, and Ty Cobb.
17 cards were double-printed
Pepper Martin's card (#80) was pulled due to contract issues. However, a number of Martin cards did make their way into packs. According to PSA, three different versions of Martin's card exist:
One with Eddie Collins' (card #20) picture on the front and Martin's stats on the back.
One with Lefty Grove (#60) on the front and Martin's stats on the back.
Martin on the front and Joe Tinker's (#40) stats on the back.
Full Set (w/o #80):
$600 (NmMT)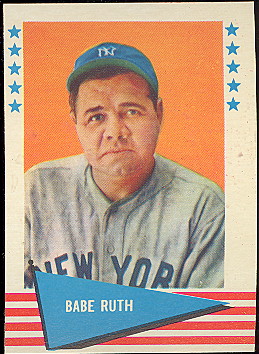 1961 Fleer Baseball Greats
Set Size:
154 cards (two series)
Notable Cards:
Same as 1960
Other Notes:

ACC designation: F418-3
First multi-series set. (First 88 cards were part of the first series, cards #89-154 in series two)

Last set under the "Baseball Greats" format.
Like the previous year's set, lots of affordable cards of Hall of Famers.

Each series one pack contained a team logo sticker.
Design recycled for a one-per-pack Hobby insert in 1999 Fleer Tradition.
Full Set:
$1200 (NmMT)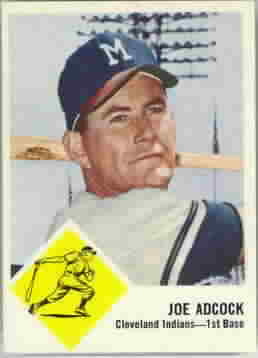 1963 Fleer
Set Size:
67 cards (one series)
Notable Cards:
Maury Wills RC, Joe Adcock and checklist SPs
Other Notes:

Fleer's first venture into active-player cards.
Featured cards of established stars like Willie Mays, Sandy Koufax, Roberto Clemente and Carl Yastrzemski.

To get around Topps' "bubblegum" clause, each pack contained a cherry-flavored "cookie." According to Pete Williams' 1995 book

Card Sharks

, the cookie was so devoid of sugar -- to get around the restriction -- that it "tasted like a dog biscuit."
Snubbed by Topps as a minor leaguer, 1962 NL MVP Maury Wills' rookie card appears in the set. It would be another five years before Topps would issue their first Wills card.

Wills and Jimmy Piersall both served as agents on Fleer's behalf.
Plans were afoot to release as many as five series, but was stopped at only one after Topps sued Fleer immediately after the first series' release.
Card #46 (Joe Adcock) was pulled midway through the production run and replaced by a checklist.
Design was recycled for the 1998 and 2003 Fleer Tradition sets.

Full Set (w/ Adcock and checklist):
$1500 (NmMT)