As someone intimately familiar with the worlds of politics, sport, and the collectibles of the same, I can say with only the utmost certainty that each is populated with the same villainous archetype: the furtive, pusillanimous but ultimately cocksure abusers of power bent on the realization of any goal, no matter how dastardly, at any cost, no matter how inimical.
By now, on this their twentieth anniversary, we know it to be too true of a certain sports trading card company, controlled and cruelly engineered as it is by a Senior Brand Manager named
Jason Masherah.
[Shakes head in disgust]
But we find it all too evident in The Hobby as well, where only the truly elite collectors can achieve the ultimate prize, there underlies an ugly truth. As we were raised with the fiction that any man could grow up to be president, we now have learned that only those capable of backroom eBay dealing and deception can possibly collect a full base set of 2009 Upper Deck Series One baseball.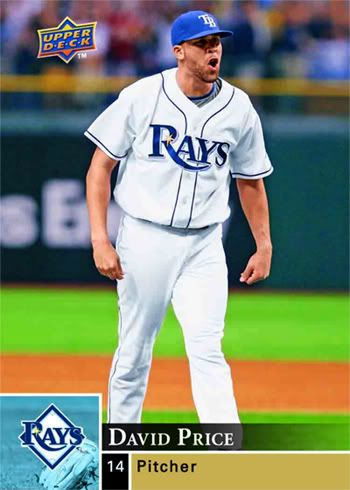 This previously un-announced David Price gimmick card - arrogating a persona which bespeaks liberty, valor and righteousness - in reality stands in a decided, deceitful, calculated counterpoise.
You, Mister Shaderah,
sir,
were quoted by Beckett that "This (David Price) variation will help create some additional interest without compromising the integrity of the base set."
[Looks up at camera]
Additional Interest?

Without compromising the integrity of the base set?
Have you not learned the mistakes of your rival and their misadventures in similar gimmicks? Did your tin ears not hear the outrage that blossomed across The Hobby at the Johan Santana fake no-hitter card? Or the "Jon" Smoltz variation in last year's Topps Heritage? The upside-down Evan Longoria rookie card in TU&H?
Did the anger over Kosuke Fukudome, Kazuo Uzuki, and Poley Walnuts not reach the echo-chambers of 5909 Sea Otter Place?
[Looks across at camera]
The answer to that question is obvious, and as such, we the collectors ask of you in reply:
WHY?
Why do you feel the need to do this?
Do you really think baseball card collectors, the people who pay your salary, and without whom this industry would cease to exist, are this guillible? Do you have any respect for your best customers? Do you even care what collectors actually want anyway? Judging by recent UD baseball releases, I think we all know the answer to those.
[Pounds fist on desk, shaking head in disgust]
If you, Mister Masherah,
sir
, are reading this, I will give you the same advise I recently gave to your competition. Follow closely, and take note if needed.
SHOW SOME FUCKING RESPECT FOR THE HOBBY, FOR COLLECTORS, AND (most importantly) FOR YOURSELVES! Cards like the stealth David Price variation, are slowly gimmicking away two decades years of history and tradition, and for what?
Is it too hard to tell us, your customers and the people who pay your salary, EVERYTHING THAT IS IN YOUR PRODUCT BEFORE YOU RELEASE IT? For some reason, you did that with the Joe DiMaggio and Jordan/Griffey cards -- both of which are listed on the upperdeck.com website. But not the Price variation -- until now.
[Looks up at camera]
I leave you with this, if the main drawing card (no pun intended) of a particular product (any product) is a gimmick, then what does that say about the rest of the product?
If you, Mister Shaderah,
sir
, continues to feel that Upper Deck's annual flagship needs a gimmick, then what does that say about the rest of Upper Deck Baseball?
And so this ends Stale Gum for this, the 11,266th day I've been actively collecting baseball cards. Good night, and good luck.
[Crumbles up script into a ball and tosses it at the camera]
(inspired by, and portions of text ripped off of,
KSK
)