Pop Quiz: What do these current and former baseball players have in common with the current object of Kooky Keith™ Olbermann's affection, Alex Gordon?
Les Rohr
Reggie Jackson
Terry Hughes
Peter Broberg
J.R. Richard
Steve Dunning
Jay Franklin
Rick Manning
John Stearns
Tommy Boggs
Mike Lentz
Pat Underwood
Bill Gullickson
Lloyd Moseby
Tim Leary (the former Expo reliever, not the LSD guy)
Garry Harris (no relation)
Joe Carter
Augie Schmidt
Kurt Stillwell
Billy Swift
Will Clark
Greg Swindell
Mark Merchant
Mark Lewis
Tyler Houston
Tony Clark
Mike Kelly
Paul Shuey
Darren Dreifort
Ben Grieve
Ben Davis
Travis Lee
J.D. Drew
Mark Mulder
Josh Beckett
Adam Johnson
Mark Prior
B.J. Upton
Rickie Weeks
Justin Verlander
I'll give you a few seconds to figure it out.
dum-dee-dum-dee-dum
la-la-la-la-la
Give up? If you haven't figured it out, or haven't looked at the title of this entry, all the players on the list were the second player selected overall in Major League Baseball's
amateur
first-year player draft. Be honest, have you ever even heard of half of these guys? Probably not.
Looking at the list begs the question: How many of these guys are either in the Hall of Fame, or are on pace towards enshrinement? Or, to put it in Hobby terms, how many of these player's rookie cards will ever be worth anything?
Well, we know Reggie's already in. So there's at least one. Joe Carter and Will Clark are marginal candidates, at best. (Veterans Committee anyone?) So there's three. J.R. Richard would have been a first-ballot HOFer, and his cards still hold at least some value -- there's four. It's still too soon to tell if "That J.D. Guy," Mulder, Beckett, or Prior are HOF material, even though their RCs are worth some serious scratch. And for the sake of this argument, let's not even bring Upton, Weeks, Verlander, or Mister Gordon into the discussion, as it is still too soon to tell if they'll ever develop into Major League superstars.
Jackson, Carter, Clark, Richard, "That J.D. Guy," Mulder, Beckett, and Prior are about it. In over forty years worth of drafts, only eight #2 picks have gone on to have good-to-great Major League careers -- seven if you subtract J.R. Richards' stroke-interrupted career -- and whose rookie cards are not commons box material. 8-for-36 (excluding the four most recent #2 picks). That's barely above the
Mendoza Line
(8/36 = .222).
Which brings us to Olbermann. KO has got to be thinking to himself that Gordon has the potential to have a career on par with Reggie Jackson's. How else do you explain his buying spree of Alex Gordon Topps cards? (And no, I'm not buying the "I need it to fill out my set" bull crap. We know what you're up to Keith.)
Twenty-five years from now, if Alex Gordon puts up career stats comparible to Reggie Jackson's and winds up on the podium giving his acceptance speech at Cooperstown -- or at the very least, posts career numbers similar to Joe Carter's -- then Olbermann has all but cornered the market our generation's T-206 Honus Wagner. Let me repeat that:
Keith Olbermann may have already cornered the market on the next T-206 Wagner.
Can you imagine what the BGS 9.5 Gordon that Olbermann just paid $7500 for, or the un-opened rack pack with a Gordon clearly visible he paid $5900 for will be worth then? And am I the only one in The Hobby that is seeing the significance of this?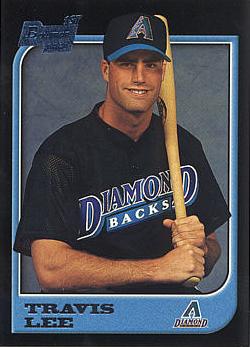 The key words are
may have.
If Gordon's career turns out to be as good as Reggie Jackson's, then good for Keith. But judging by the list above, Gordon probably has a better shot at a career similar to another recent #2 overall draft pick: Travis Lee. In other words, an overly-hyped high first-round draft pick whose rookie cards got some serious early run, but whose career
didn't amount to jack squat.
Although with the signing bonus Gordon was able to get from the Royals, he probably doesn't have to worry about living in a van down by the river any time soon.