It a shocking upset, the 2007 Topps Derek Jeter base card (with photos of George W. Bush and Mickey Mantle airbrushed in, for no apparent reason) has been crowned the worst Hobby gimmick of all time following a 63-56 victory in the Championship Game over Upper Deck's Yankee Stadium Legacy.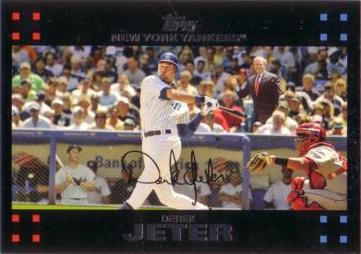 Despite getting a #4 seed in the tough Olbermann region, Jeter was able to defeat the #13-seed 2008 Topps Red Sox Rudy Giuliani gimmick in the first round, then punched their ticket to the Sweet Sixteen over an upset-minded #12-seed: the 2000 Pacific Invincible ManRam corked bat card.
In the Olbermann Regional Semi-Final, Derek Jeter was up against a true dark horse, a card picked by some to make it to the Final Four: The 2008 Upper Deck Hillary Clinton/Morgana card. Both sides went back-and-forth in a gimmick match-up for the ages. But when the final buzzer sounded, it was Jeter moving on to meet 2008 UD Documentary in the Regional Final.
The Regional Final was no contest. Although Crockumentary had a strong profile, and was despised by all in The Hobby, it was no match for Jeter/Bush/Mantle.
In the Final Four, in what some called "The Real Title Game" the Derek Jeter with paired with the #1-seeded Kazuo Uzuki. The card of the fake player versus the card with the fake backgound! The roof of Lucas Oil Stadium wasn't able to contain all the bullshit. But after a close match, it would be the Jeter playing for the Championship, and Kazuo Uzuki going back to law school.
After that epic Semi-Final, The Championship itself was a bit anti-climatic. Yankee Tedium Lunacy was a deserving opponent, and had this been any other year, might have been the one to cut down the nets. But on this night, and in this year, the 2007 Derek Jeter/George W. Bush/Mickey Mantle card was too much bullshit for even YSL to handle.
THE 2007 TOPPS #40 OF DEREK JETER/GEORGE W. BUSH/MICKEY MANTLE HAS BEEN CROWNED THE DUMBEST GIMMICK IN THE HISTORY OF BASEBALL CARD COLLECTING!